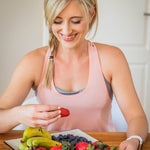 11 WAYS TO MAKE HEALTHY EATING EASIER NEW YEAR
A few years ago, I battled with my health. I had chronic fatigue and was insulin resistant, with polycystic ovarian syndrome. Ladies, can you relate to the following? I craved unhealthy carbohydrates and sweet treats and often binged on them. This would leave me constantly tired from the blood sugar highs and lows.
I adopted a new lifestyle of healthy eating and lost weight while improving my energy levels. It helped me to crave carbs less causing my blood sugar to stabilise and my illnesses to resolve.

11 points that helped me stick to my goal of eating better, becoming healthy, and losing weight:
Removing temptation from your lifestyle / kitchen can help a great deal. Some researchers have concluded that the mind can only make a certain amount of conscious decisions per day. It takes self-control to walk past a tempting snack and when your self-control "runs" out your temptation can win. Remove all unhealthy food from your house and only stock up on the healthy food your body needs. I even limit most fruits because fruit is nature's candy and it adds to your calorie intake.
Visualize how you will cope when you are tempted. It is inevitable that there will be unhealthy food at work or at other events you go to. Prepare your mind before you get tempted. Rather prepare mentally to opt for the healthy option or some refreshing water. Go prepared with some snacks in your bag or eat before you leave home.
Eat Mindfully. Make your mealtimes an event, where you sit down to eat and appreciate your food. Sometimes we eat "on the go" when we are busy. We don't always realize how much we eat, and are not always fully satisfied afterwards. Remove electronic devices from your mealtimes and look at your food and enjoy the flavours. One is more likely to be satisfied quicker and eat less when practicing mindful eating.
Make your healthy food interesting by using a variety of different foods every day. I like to experiment with different flavours, textures, colours, herbs and spices. Do you agree that when a salad looks pretty, it is just so much nicer for to eat?
Smaller plates, taller glasses. One is more likely to overeat when using a big plate. Similarly, if you decide to drink something other than water, choose a taller thinner glass. Most people's minds perceive that they are getting more out of taller thinner glass compared to a shorter wider glass.
Make healthy food your treat. Once you have come into the habit of cutting out sugar etc., suddenly you will find healthier alternatives so much tastier. Choose a healthy snack that you really like, and reward yourself with it.
Minimize alcohol to once or twice a week. I personally find that just my one glass of wine makes me relax a bit and just that obscures my ability to make healthier choices.
Presentation is key. Present your foods on pretty plates, put flowers on the table, use your favourite cutlery and crockery to make the eating experience most enjoyable.
Always keep healthy snacks handy. Keep nuts or biltong or a low carb sugar free bar in your handbag. When on the go, it will then be easier to resist the quick-shop if you have a healthy snack in your bag.
Know your trigger foods. Dodge the trigger foods by being present in the moment and asking yourself if you are in auto-pilot or not. Being conscious when making your choices helps that you make healthier choices. Trigger foods can be sweet food for me, and then I fall into the temptation easier if I have had a taste.
Drink more water. We often feel hungry but we are in fact thirsty. First drink a glass of water. Flavour your water with interesting alternatives like berries, mint, cucumber and lemon. For special occasions or eating out, take the sparkling water for a change.
Remember to keep on moving because exercise and healthy eating cannot be separated if you want the best results. Follow my blog for more on "Believe, Move, Nourish".
Click HERE to read more about my affordable online body coaching and online workouts. You can subscribe to exercise daily with me online (live) and also have access to all the recorded videos to do in your own time.