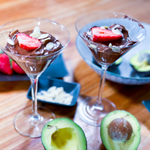 HEALTHY CHOCOLATE MOUSSE MADE #THEHARMONYWAY
If you have a sweet tooth like me, this one is for you! Take a look at this healthy alternative to Chocolate Mousse – made #TheHarmonyWay with ZZ2 Afrikado's delicious avocados. Guilt-free, low carb and most definitely tasty!
Health and goodness are always in season. Harmony Avs are a range of avocados made available when in season to ensure that you get the best year-round. When it comes to avocados, timing is everything – and these are more affordable because they're grown locally. Their delicious and healthy avs will find their way to your salad, pasta, sandwich or pudding! Visit www.harmony-avs.co.za for more info!

Low Carb Chocolate Mousse
Serves 2

Here's what you'll need:
- 1 medium Avocado (Harmony Av)
- 1/2 cup almond milk
- 1/4 cup xylitol
- 1/3 cup cocoa
- 1tsp vanilla essence
- Strawberries & flaked almonds to garnish

Method:
- Combine the avocado, almond milk, xylitol, cocoa and vanilla essence in the food processor until smooth.
- Spoon mixture into desired bowls and garnish with sliced strawberry and flaked almonds.

I've put a video together to help you through the steps, step into my kitchen:

Remember to enjoy the recipes and articles on the ZZ2 Afrikado microsite:
https://harmony-avs.co.za/

When using your harmony Avs, take some pics, post them and use the hashtag #theharmonyway and tag us, @zz2farming and @christyann.fit. We would love to be part of your journey.