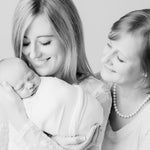 Welcome to my blog, where we journey together as women. 
Here I begin our conversation, introduce myself briefly and share my focus on women's health and where I'm coming from, not only as a physiotherapist but also as a woman and mother. My three themes for this blog are "Believe", "Move" and "Nourish" (Think right, Exercise right and Eat right).
I have 3 sons and will be sharing aspects of my own life and personal thoughts, but there will also be practical information, suggestions and useful tips for Moms, for example: "How to move your body and see results," and "Making healthy eating your lifestyle."
Today's blog post falls under the theme "Believe". My tagline "Believe" generally focuses on mental health, although I will also share my own thoughts and reflections.
Let's start with our New Year's Resolutions and at the same time not disregard embracing the fragility of life.
I personally went through a dark time 4 years ago when I lost my Mom to the cancer battle. I had birthed my first baby only 6 months before her death. After surfacing out of this tiresome hollow that I was stuck in, all the noise became quiet and I could really reflect on what is important in life.

As you design your new year's resolutions, take a moment away from all the realities and imagine your life was really short. If this was your final year of life, what would you do this year?
I wish to share 5 thoughts with you;
The five choices I try to make every day
Spend time with the people who mean the most to me.
Appreciate God's love for me, spend more time with Him and share His love with others.
Say "No" more easily. Keep asking myself questions such as, "Am I trying to gain the approval of others/ impress people/ gain followers/ make more money?" And if so, I ask myself why.
No longer worry about my imperfections and mistakes but rather spend the time catching up on the important things I did not get to do with my friends and family.
Be more present in the moment and embrace every second.
Keeping these thoughts in mind, I feel so privileged to have vibrant health which allows me to be able to enjoy these priceless moments fully. My flourishing health, fitness and state of mind did not come by themselves; it took commitment to a lifestyle of "Thinking right, Moving right and Eating right."
Follow this blog and come with me on a journey of "#Believe #Move #Nourish."
The next few posts include topics on practical exercise tips, healthy eating made easy, and various other healthy thoughts.
If you are interested on reading more about the live online workouts I offer, click HERE
All my Love,
Christy Ann